I have never really thought there was anything wrong with my hands, I've never suffered from dry skin or anything similar and so I never paid them much attention. For Christmas, I ended up getting several hand creams and it made me consider why these are so popular all of a sudden. I thought about how much you hands actually go through in a day and realised that they get put under a lot of stress. I decided to try out one of the gift sets I have been bought and I have to say after just 3 days of use, my hands feel so much softer!! The skin is less tight and my hands are silky smooth!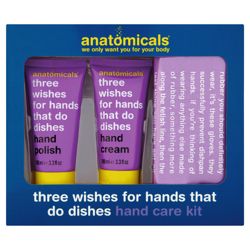 The set I have been using is anatomicals three wishes for hands that do dishes (hand care kit). It contains a hand polish, hand cream and a set of washing up gloves. I have to admit that I never bother wearing gloves to wash up, but now I think about how hot the water is, and what it must be doing to my skin, I have vowed to always buy them! I have put the hand polish and cream on my bathroom sink and as a result, have been using them several times a day. I am really happy with the results and will be purchasing this again in the future for sure. I just have to get through my other creams first! Here's the other products I received for Christmas…
Fearne Cotton Hand Saviour Gift Tin
Includes –  Hand Cream, Hand Wash, Nail Buffer, Nail File and Orange Stick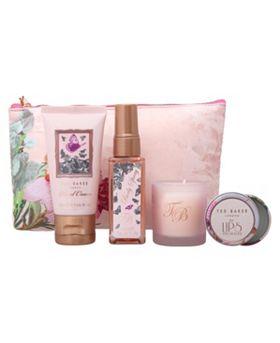 Ted Baker I Wanna Be Loved By You Gift Set
Includes – Hand Cream, Lip Balm, Candle and Body Spray
Soap & Glory Hand Food
I also received this as part of a gift set but cannot remember the name of it!
As you probably know, there are a lot of Soap & Glory gift sets to choose from!
*All images are taken from google. The above products are available to buy from boots.com.
If you are already a hand cream addict or have some tips on how to look after your hands – please get in touch or leave a comment below!
Many Thanks,
Ti Amo x
Related articles